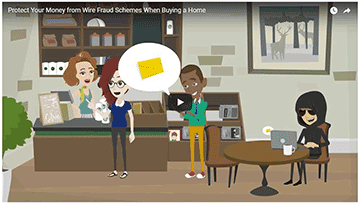 Protect Your Money from Wire Fraud Schemes When Buying a Home (video)
White Paper: Title Companies, Lenders May be on Hook for Wire Fraud – August 23, 2018
A white paper released by identity management company CertifID, analyzed a recent court ruling that heightened the standard of care owed by transaction participants to prevent wire fraud losses.
According to the white paper "Wire Fraud Is Everyone's Problem" written by CertifID founder and CEO Thomas Cronkright II, the ruling in Bain v. Platinum Realty LLC et al. means that anyone—including title agents, underwriters and mortgage lenders—involved in a real estate transaction may be held liable where fraud occurs, regardless of the relationship between the parties.
The jury in the Bain case found a real estate agent and her broker jointly and severally liable for 85 percent of losses incurred by a buyer when the buyer was tricked into wiring funds to a fraudulent account in connection with a real estate transaction. Based on the pleadings and motions filed with the court, the real estate agent's email account was compromised by cyber fraudsters who used the account access to send fraudulent wiring instructions to the buyer. The buyer trusted the wiring instructions because they were sent directly from the agent's email account and contained information relevant to the upcoming real estate closing. The jury found the agent and her broker liable for negligent misrepresentation and ordered both of them to pay $167,129.27. Importantly, there was no direct tie between the buyer and the agent or the broker, as the agent and broker in this case, represented the seller. The buyer was an experienced real estate investor that was unrepresented.
"The moral of the story appears to be that, no matter your role in the real estate transaction, you have a duty to take reasonable steps against cyber fraud," Cronkright said. "Title companies, loan officers, attorneys or financial institutions … this ruling sends a strong signal that we're all responsible to guard against cybercrime and wire fraud."
Cronkright said the case appears to expand the duty of care in two ways. First, participants may be held jointly and severally liable for losses due to cybercrime if their email, systems or information is compromised.  Secondly, the standard of care may expand to all parties in a transaction regardless of direct contract or fiduciary relationships between them.
Security Report Urges You to Reset Your Router
CNET | June 7, 2018 | Rick Broida
Safeguard your home network, particularly if you ever use it for your work. A new report from the security firm Cisco Talos warns that the Russian malware VPNFilter malware threat is growing worse and the list of potentially affected wireless routers is also growing.
SEPT 15, 2017 –  The Federal Trade Commission has released an article about the Equifax Data Breach –  EQUIFAX WILL NOT CALL TO ASK FOR INFORMATION! –
read the full article here
Sept 8, 2017  Equifax Data Breach – what you can do –
Midwest Mortgage Credit Services is a Credit Reporting Agency, and a division of Wisconsin Title, Closing, & Credit Services. Our concern is data that we gather for our clients may have been compromised – not by what we do, but the very nature of being in the credit reporting business.
Below is information we have gathered directly from Equifax:
As of now, Equifax does not believe that any of the  data that is stored for credit reporting purposes has been compromised, however, they have set up a website that any U.S Consumer can go to see if they have been compromised, and to also enroll in Free Credit Monitoring:
That website is https://www.equifaxsecurity2017.com/  the site will ask you to register, and then give a date that the consumer should hear back from Equifax as to whether or not their data has been compromised.
REGARDLESS of whether or not the consumer's information has been compromised ANY U.S. CONSUMER may enroll in 1 year of FREE CREDIT MONITORING, which will include a copy of their Equifax credit report, ID Theft Insurance, and a tool to allow an internet scan to see if their Social Security Number is being used on the internet at all
In addition – Equifax has set up a toll-free number that consumers can call if they would rather go through the enrollment process on the phone-it is 866-447-7559 -the call center is open from 7AM – to 1 AM  EST –  and the non-peak hours to call would be between 1- 5 PM and after 7 PM
They did caution however, that the phone line has been extremely busy – so to not get discouraged if the call gets disconnected, or can't get through – to try again.